Death Valley
National Park:
4-Day Ultimate
Adventure
November 3rd - 6th, 2023


Who said hiking and camping are only for summer? Our Death Valley National Park 3-night, 4-day Trip offers the ultimate adventure to visit a truly wild place. This trip is packed with day hikes and stunning views. 
Itinerary
The day before your Death Valley National Park trip, your RMHC guide will meet with you in-person to double-check you have everything you need to make your adventure as enjoyable as possible. Guests will need to fly into Las Vegas the day before the trip begins. 
Day 1: We'll depart Las Vegas at 6:30 am and drive 2 hours to Death Valley National Park. We'll head straight for Mt. Perry, a 10-mile roundtrip hike with 360-degree scenic views the entire time. After our hike, we'll stop by Badwater Basin, the lowest point in North America at 282 feet below sea level. Then we'll go to Furnace Creek Campground, where we'll be staying for the next three nights. We'll set up camp, have dinner under the stars (stunning!), and enjoy a fire. Total Hiking Mileage: 11 miles
Day 2: On the second day of our Death Valley adventure, we'll meander through Mosaic Canyon and then the Golden Canyon loop. Today we'll see both marble and badlands all in one day. We'll end our hikes at Zabriskie Point for sunset. Total Hiking Mileage: 10 miles

Day 3: On our final big day of hiking, we'll hike the Panamint Dunes, an 8-mile hike roundtrip. This is a sand dune hike. Total Hiking Mileage: 8 to 10 miles
Day 4: For those interested, we'll do a short early morning hike and be on the road by 8 am to make our way back to Las Vegas. 

Itinerary subject to change due to weather, road closures and road conditions, and additional unforeseen circumstances. 
Accommodations
We'll camp at Furnace Creek Campground. This is a drive-in campground.
What's Included
Transportation 
​3 breakfasts, 3 lunches, 3 dinners
Snacks for 3 days
3-nights camping
Tea and coffee
2 Expert Guides, Certified in Wilderness First Aid or higher and CPR
Detailed list of what to bring
Death Valley National Park Entry Permit and campsite permit
2-way GPS communication & First Aid Kit
Communication between you and your guides from the moment the trip is booked to when you arrive in California/Las Vegas. We are available to answer any and all questions
Gear can be provided at an additional cost

Cost
$1,500 per person
Capacity: Up to 8 people
Weather
November temps can range from 70 degrees to 80 degrees or warmer during the day to 50 degrees or cooler at night. Clients are encouraged to bring both summer clothing and cold-weather clothing. 
Book This Trip
To book this 3-night, 4-day trip to Death Valley National Park, please email us at the below and a member of our team will be in touch to schedule your trip reservation.
Questions? 
carly@rockymountainhikingco.com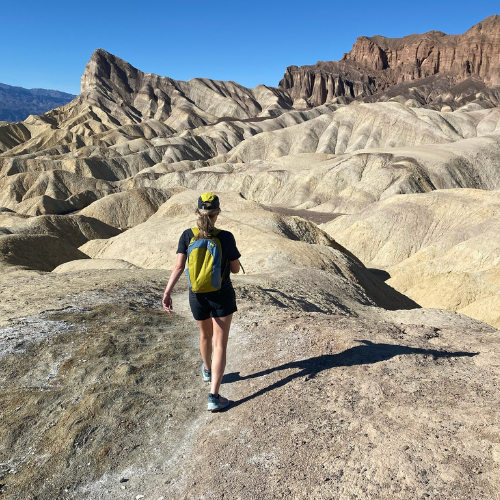 Cancellation Policy
Payment in full is required to register for the Death Valley National Park trip. Trip cost includes a 15% non-refundable administrative fee. Hikes can be canceled up to 2 weeks before the trip for a refund (minus the 15% fee). Within 2 weeks, a 50% refund will be offered. Within 48 hours, a refund will only be offered if Rocky Mountain Hiking Company cancels the trip due to severe weather. 
We hike rain or shine!
If your guide does an exceptional job during the Death Valley National Park trip, please feel free to show your appreciation with a tip. Industry-standard gratuity for a guided backpacking trip is 15-20% of the trip price.

Trip details can sometimes change.